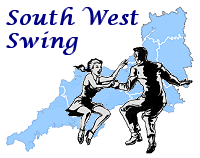 Trinity LeRoc
(South West Swing disclaimer)
Trinity LeRoc hase been running classes for around 12 years, firstly at the New Trinity Centre, hence the name, and now at the BAWA Club in Filton. The aim is to make classes both sociable and educational and there are generally new members every week plus some still coming since the club first began.
LeRoc is a fun easy to learn partner dance which can be danced to a variety of music styles Its roots are in France where it was danced at social occasions hence its name "Le Roc" or "The Dance".
Dancing has become in vogue recently with the huge success of Strictly Come Dancing and, in particular, partner dancing. It's a great way to meet new friends, keep fit and learn a new skill. What could be better than not only enjoy your favourite music but dancing to it? Truly nobody has two left feet so you have nothing to lose and a whole lot to gain!
The current weekly class is held every Tuesday at the Concorde Room, BAWA Club, 589 Southmead Road, Filton, Bristol - Venue Map.

For more information please phone Dave on 0117 907 8368 / 07957 784094, e-mail him at info@trinityleroc.co.uk or visit the Trinity LeRoc web site at http://www.trinityleroc.co.uk/

There are currently no forthcoming events that South West Swing has been informed off listed for this club.


© 2003-2019 South West Swing