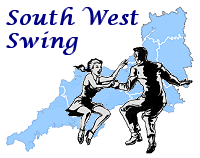 The Thing Modern Jive
(South West Swing disclaimer)
From the moment you enter, it soon becomes obvious why The Thing Modern Jive evenings are voted one of the best nights out on the south coast. The nostalgic venues boasts beautifully sprung dance floors, integral bar and a great stage that gives a fantastic view of all the entertaining classes.
You can bring a partner, a friend or come alone to learn the style of the modern jive dance, a dash of improvisation and a social scene thrown in to help you create your own dance style and make new friends.
The classes are designed for the inexperienced dancer but advanced modern jivers often join in. The support and friendliness you will encounter at this point from people you have only just met really helps you through those first difficult moments. The four moves build with your confidence into a flowing routine.
The current weekly classes is on a Monday at the Trades and Labour Club, Ashley Road, Poole - Venue Map.

For more information please phone Paul on 07968 393977, e-mail him at info@thething.uk.com or visit The Thing Modern Jive web site at http://www.thething.uk.com/

There are currently no forthcoming events that South West Swing has been informed off listed for this club.


© 2003-2019 South West Swing