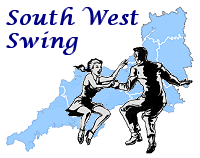 South West Lindy Hoppers
(South West Swing disclaimer)
A group of Lindy Hop enthusiasts founded in 2004, based in the Exeter area who enjoy and promote this unique social dance for all age groups.
Beginners classes, practice sessions, workshops, demonstrations and pure swing dances are all regularly arranged.
All ages and abilities are welcome. No need to bring a partner. Meet like minded dancers in helpful and friendly surroundings.
Tuesday Beginners / Improvers Lindy Hop Course (contact Derek / Jane for enrolment details)

This course is being run on Tuesdays from 7:15pm to 09:30pm in the Upper Hall, The Mansion House, 36 Fore Street, Totnes - Venue Map.

Thursday Beginners / Improvers Lindy Hop Course (contact Derek / Jane for enrolment details)

This course is being run on Thursdays from 7:30pm to 10:30pm at the 'First Floor Swing Club', Heavitree Conservative Club, 7 Church Street, Heavitree, Exeter (a short distance down Church Street from Fore Street on the left hand side) - Venue Map.

For more information please phone Derek / Jane on 01392 490022 or 07821 721043, email Jane at janeswlindyhoppers@yahoo.com or visit the South West Lindy Hoppers web site at http://www.swlindyhoppers.org.uk/

There are currently no forthcoming events that South West Swing has been informed off listed for this club.


© 2003-2019 South West Swing