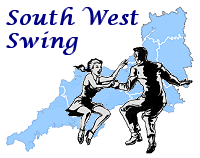 Swing Out West
(South West Swing disclaimer)
Swing Out West is a collaboration between four Swing Dancers in the Falmouth area of Cornwall. We teach regular classes, and organise Tea Parties and evening dances. We can be found on Thursday nights at 5 Degrees West in Falmouth dancing to the resident Great Western Jazz Company.
We want to share our love of dancing with you, and we'll do everything we can to get you feeling confident and happy on the dance floor. After all we believe that dancing should be fun.
Come and dance to the original swing music of the 1930's to 1940's with authentic styling. You will be taken from your very first step until you can rock-step, triple-step like a pro!
The current weekly class is held every Thursday at 5 Degrees Below, underneath 5 Degrees West, 7 Grove Place, Falmouth - Venue Map.

For more information please email info@swingoutwest.com, visit the Swing Out West web site at http://swingoutwest.com/ or their Facebook page at http://www.facebook.com/SwingOutWest?ref=hl.

There are currently no forthcoming events that South West Swing has been informed off listed for this club.


© 2003-2019 South West Swing