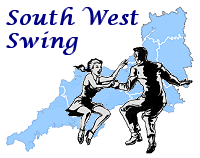 Salsa Swindon
(South West Swing disclaimer)
Salsa is a mix of dance styles originating in Africa, Cuba and Latin America. Definitely NOT ballroom (this is for FUN - no exams!), it's a street dance, with a partner (you don't need to bring your own, but you can if you want to – and even if you do, we rotate partners so you get to dance with all the other guys / ladies in the class).
Salsa music is constantly evolving and the variety is endless. Our Resident DJ - Shaun of the Decks - is always "hot on the heels" of all the latest tracks and plays a great mix of funky Salsa, Reggaeton, Boogaloo, Bachata, Merengue and RnB. We aim to please and try to play your favourites on request.
It doesn't matter what age, if you're an experienced dancer or have two left feet, you can join in. It's fun, friendly and, if you're not careful, you might get fitter (without even trying!) Forget the gym, this is a LOT more FUN! Start any week – no need to book and there's always new people, so you won't be alone!
Current weekly classes:
Mondays - The Star Bar (above Mario's Restaurant), 7 Wood Street, Old Town, Swindon - Venue Map.
For more information please phone 01793 871740, e-mail info@salsaswindon.com or visit the Salsa Swindon web site at http://www.salsaswindon.com/

There are currently no forthcoming events that South West Swing has been informed off listed for this club.


© 2003-2019 South West Swing