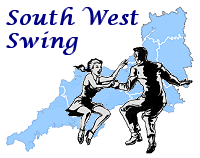 Riviera LeRoc
(South West Swing disclaimer)
Modern Jive is one of the fastest growing partner dances in the UK. Based on Rock 'n' Roll, but influenced by other dance forms, Modern Jive can be performed to a wide variety of music from the 40's to the naughties. This includes modern pop, swing, seductive blues and sexy latin.
Riviera LeRoc offers evening classes so you can learn the moves and hold regular events where you can meet, dance and have fun. You can also book them to entertain, teach and DJ at your private parties.
Current weekly classes:
Wednesdays - The Lawns Social Club (formerly the Royal British Legion), Mary Street, Taunton (opposite car park) - Venue Map.
For more information please phone Gary on 01823 462926 or 07887 995849, e-mail him at gary@rivieraleroc.co.uk or visit the Riviera LeRoc web site at http://www.rivieraleroc.co.uk/

There are currently no forthcoming events that South West Swing has been informed off listed for this club.


© 2003-2019 South West Swing