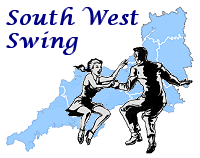 Newquay Jive
(South West Swing disclaimer)
Newquay Jive started the first Modern Jive Club in Cornwall in September 1999 and were very proud to see how quickly this great style of dancing took off with people travelling from all over the county to come along to try out their classes and dances as the word spread.

Modern Jive is also known as Ceroc, Le Roc, which only loosely resembles 50ís jive. Itís danced at a slower smoother pace without all the kicks and flicks you may have seen on "Strictly Come Dancing".

Our teachers are Jill, Pam and Murphy and they believe the secret of their success is that they feel passionate about helping and encouraging beginners (who then soon develop into good dancers) whilst maintaining a fun and friendly night club atmosphere at their venue.

For ages 16 onwards... no need to bring a partner. Even those with "two left feet" can look good on the dance floor after just a few lessons. Impress your friends with your newfound confidence, surprise your colleagues at dances and weddings, it really is possible. Just come and have a try! Wear something cool and shoes with smooth soles.

No joining fee or courses to book on Ė just turn up at 8pm in time for the beginners class on a Monday or Thursday. Thereís an intermediate lesson at 9:30pm and freestyle dancing continues up to 11pm.

Current weekly classes:
Mondays - most weeks (telephone to check before travelling) - Indian Queens Social Club, St Francis Road, Indian Queens - Venue Map.
Thursdays - Indian Queens Social Club, St Francis Road, Indian Queens - Venue Map.
For more information please phone Pam on 07811 696275, Jill on 07866 706041, e-mail Pam at pamnewquayjive@hotmail.com or visit Newquay Jive web site at http://www.newquayjive.com/

There are currently no forthcoming events that South West Swing has been informed off listed for this club.


© 2003-2019 South West Swing