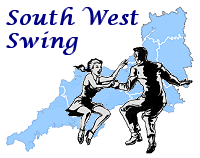 Jive Fusion Dance
(South West Swing disclaimer)
Jive Fusion Dance is a Dance class based in Bristol. The class is open to all people that have some experience and beginners.
Experienced Dancers in Jive will enjoy a fusion of other dance types, adding to there French jive experience and adding to their portfolio of moves.
A team of Helpers are available to help you pick up the moves more quickly. Dances are also held where members from other clubs in Bristol join us for the evening.
The current weekly class is held every Wednesday at the Kingswood Community Centre, The Arch, High Street, Kingswood - Venue Map.

For more information please phone Derek on 07549 590269 or visit the Jive Fusion Dance web site at http://www.jivefusiondance.co.uk/

There are currently no forthcoming events that South West Swing has been informed off listed for this club.


© 2003-2019 South West Swing