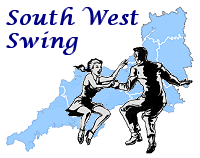 Jim's Candlelight Dancing
(South West Swing disclaimer)
Every Night's a Party Night at Jim's Candlelight Dancing!
Singles - Couples - Beginners - Experts - Age 18 to 80
Ballroom * Rock & Roll * Latin * Popular Sequence * Jive * Line * Old Tyme * Barn & Party Mixers
Jim's Candlelight Dancing - a fun mix of Ballroom, Rock and Roll, Latin, Popular Sequence, Jive, Line, Old Tyme, Barn and Party Mixers, all blended together in one enjoyable evening.
The spotlight is on Dancing for Fun rather than on strict technique so, if like many of us you are still learning, just join in and follow everyone else. All steps are easily learnt so the more you dance the more fun you will have.
If you have a partner, great! No partner? Terrific, because you will meet, mix and dance with so many others just as nice as you!
"I have never seen so many genuinely happy people in one place before"
"A wonderful night out - together!" "I meet so many new partners & dance all evening!"
These dances are very attractive for singles aged 35+. Many happy relationships flourish today for people who first met at Jim's.
So turn off the telly, put on a smile and Come Dancing! These events have changed many lives, they may yours too! Dress - smart casual, but no blue jeans please.
Regular dances are held most weeks (see list below) from 8pm (doors open 7:15pm) on rotation between two venues on the following days:
Saturdays - Exeter Corn Exchange, Market Street, Exeter - an impressive 4500 square foot ballroom with new dance floor - full bar service plus snacks available, own drinks not permitted (Venue Map)
Fridays - The Woolwell Centre, Darklake Lane, Woolwell, Plymouth - a beautifully polished and sprung dance floor, staffed carpeted bar and snack bar, and a 72 space free car park (Venue Map)
Please Note: There are no dances in August to allow a summer break for all.
Dress code is smart casual with tie, except for elegance nights when dinner jackets are prefered. Admission £7/£8 on the door (unless otherwise stated).

For more information and a FREE programme please phone Jim Fursdon on 01626 335123
or by email at jimfur@btopenworld.com
or by post at 16 College Road, Newton Abbot, Devon, TQ12 1EQ

There are currently no forthcoming events that South West Swing has been informed off listed for this club.


© 2003-2022 South West Swing