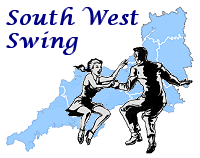 Ceroc Le Beat
(South West Swing disclaimer)
Ceroc Le Beat is part of the Ceroc Franchise providing weekly Ceroc dance lessons in Somerset region. We also hold monthly modern jive (Ceroc) freestyles with friendly helpful teachers and crew members.
Classes are fun and exciting with clear easy to follow beginner classes and exciting Intermediate classes.
We always play a wide mix of music from modern pop to swing, great music for every taste.
Current weekly classes:
Mondays - The Lawns Social Club, Mary Street, Taunton - Venue Map.
For more information please phone John on 07821 071251, e-mail info@ceroclebeat.net or visit the Ceroc Le Beat web site at http://www.ceroclebeat.net/

There are currently no forthcoming events that South West Swing has been informed off listed for this club.


© 2003-2019 South West Swing