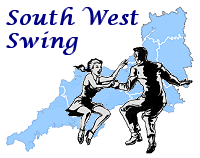 Bude RnR Jive Club
(South West Swing disclaimer)
Bude Jive Club has been in existence since 2004 and due to its popularity moved to bigger premises in 2006. The rise in interest has developed from combining two dance styles, traditional rock and roll and modern jive.
We aim to preserve the 60's Traditional Rock 'n' Roll Jive style and to the music from the era. However, we encourage younger members to join the club and in order to keep their interest we build in modern jive moves in the routines taught. This allows beginners to become more versatile and to develop routines that suit their individual ability.
The club meets on most Monday evenings (October to June excluding bank holidays) from 7:30 to 10:15pm at the the Parkhouse Centre, Bude - Venue Map.
Beginners and intermediate tuition is given along with plenty of time for freestyle dancing.
For more information please phone Liz Hodgson on 01288 359966 / 07980 513429 or Judith Smith on 01288 353568 / 07815 733185, email budejiveclub@btinternet.com, or visit the Bude RnR Jive Club web site at http://www.budejiveclub.co.uk/

There are currently no forthcoming events that South West Swing has been informed off listed for this club.


© 2003-2019 South West Swing