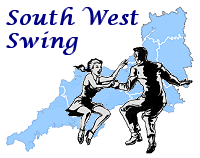 Bristol LeRoc
(South West Swing disclaimer)
Bristol LeRoc is the longest running modern jive class in the South West, running for over 20 years and are the co-organisers of the Bristol LeRoc Ball and the South West and Wales LeRoc Challenge.
Bristol LeRoc is the original LeRoc club in Bristol. Started by Michel Gay who was one of the founders of LeRoc in the UK, the current teachers John and Jacquie were part of Michel's original teaching team.
An essential element of a class is the frequent changing of partners. This means you can come with a friend or on your own and you'll get to dance with lots of different people. The basic dance is built upon a few basic moves, but it borrows from other dance styles and there are now hundreds of moves to learn.
For more information please phone John on 07947 627878, email john@bristol-leroc.co.uk or visit the Bristol LeRoc web site at http://www.bristol-leroc.co.uk

There are currently no forthcoming events that South West Swing has been informed off listed for this club.


© 2003-2019 South West Swing