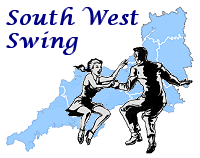 Bideford Jive
(South West Swing disclaimer)
Modern jive is the new way to have fun, make new friends and keep fit in north Devon. This stunning blend of jive and salsa is easy to learn but beware Ė itís addictive!
An evening with Bideford Jive is a great social night out where you can have tremendous fun and meet new people. You donít even need to bring a partner as our teaching method means everyone changes partners. Dancing modern jive provides many of the benefits of going to the gym, but itís much more fun and sociable. Regular dancing is a great way to burn fat and keep toned, and can help you increase stamina and improve posture and co-ordination.
Current weekly classes:
Wednesdays - The Pollyfield Centre, East The Water, Bideford - Venue Map.
For more information please phone Sean on 01237 425043, e-mail bidefordjive@gmail.com or visit the Bideford Jive Facebook page at http://www.facebook.com/groups/483440148373523/.

There are currently no forthcoming events that South West Swing has been informed off listed for this club.


© 2003-2019 South West Swing