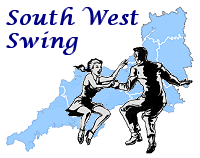 Balboa Bunch
(South West Swing disclaimer)
Balboa is a form of the swing dance in the Lindy Hop family, which evolved from Charleston and Shag. It is a smooth dance, danced in a close hold (pure Balboa) or the dancers may separate (Bal Swing). It is often only thought to be a dance for very fast music when it is at its best, however Balboa can be danced at all tempos down to Blues. An excellent way to dance on a crowded dance floor and very handy if you want to hold a conversation while you are dancing.
Balboa is a dance where people build communities, and friends. It is an international dance with workshops and festivals all over the world.
Current weekly classes:
Tuesdays - The Victory Club, Lypiatt Road, Cheltenham - Venue Map.
Thursdays - Bayshill Church Hall, Royal Well Lane, Cheltenham - Venue Map.
There are also social practice nights held most months which are open to all levels of dancers and when we welcome new faces and experienced dances alike. You are welcome to drop in and see what is happening.

For more information please phone Graham on 01242 506279, 07980 801522, via e-mail at balboabunch@googlemail.com or visit the Balboa Bunch web site at http://www.balboabunch.co.uk/

There are currently no forthcoming events that South West Swing has been informed off listed for this club.


© 2003-2019 South West Swing